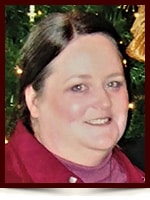 Valerie Kermode
Valerie Kermode passed away on Saturday, July 8th, 2017. She is deeply loved and will be missed by her family and friends.
Val was born in Edmonton, AB, to Douglas and Audrey (Hunt) Kermode on January 29th, 1957. She was the fifth of six children. Embracing her education, she never ceased to learn and was widely loved in her family for her knowledge. Her successes included owning two franchises over the course of her life, as an owner, administrator, and accounting bookkeeper.
Throughout her life, Val constantly demonstrated her deep love for her family and friends in all the little ways that she remembered each and every one of us. From newspaper clippings and small personal sayings, to the wonderful dishes that you would add at holiday meals, she always sought to add to the joy of all those lucky enough to share their lives with her. Val was also an avid animal lover, from her own beloved cats, Ricky and Tessy, to all other animals that crossed her path.
Val loved to learn, and she shared this quality with her family. She constantly shared whatever she was learning generously, from scripture to the latest technology craze on t.v., she was always ready to discuss any topic just to share some time with her family.
Above all Valerie was a Christian and went to her Rest in the hope of rising again through God's mercy. Her faith was a cornerstone in her life which she never forgot. We pray for her now as she often did for us. With great sorrow, and the belief in the mercy of God, we tearfully say goodbye to our beloved niece, sister, and aunt, until we are reunited in the Everlasting Kingdom.
Valerie is survived by her three sisters: Laurie West, Shelley Kermode, and Candace Theriaut, two brothers: Douglas Kermode and Rod Kermode, three nephews: Chad Kermode, Jason Hamelin, and Shane Kermode, two nieces: Hannah MacDonald-Kermode, and Rhonda Villeneuve, and her Aunt Doris LaBranche. She is missed deeply and loved always.