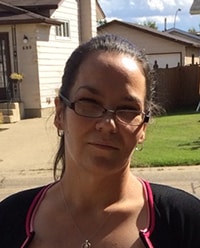 Vanessa Kaduk
It is with great sadness and shock that the family announces the sudden passing of Vanessa Kaduk peacefully in her home in Edmonton, Alberta on July 8, 2019 at the age of 47 years.
Born in Edmonton, Alberta on July 30, 1971, she was the daughter of Leo and Marguerite Kaduk.
She will always be remembered and so loved by her children Brandon, Austin, Madison, and Victoria; the children's fathers Norman Butz, and Brad French; her two brothers Richard and Robert, and her one sister Delores; Cassius and Jessica; as well as so many friends and extended family that Vanessa's life touched and enriched. Vanessa was predeceased by her mother and father.
A celebration of life will be held at Richfield Christian Fellowship Church, located at 3715-85 Street at 2:00pm on Friday, July 12, 2019.
In lieu of flowers, you are welcome to donate to Vanessa's children through her family members.