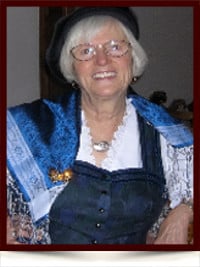 Vera Krawzik (nee Schulz)
1935 - 2016
It is with great sadness that we announce the passing of Vera Krawzik (Wife, Momma, Oma, and Great-Oma) on October 2, 2016, at the age of 80. Vera Krawzik was a kind, caring, and loving woman who we were proud to call our Mom, and a devoted wife to Hans for over 57 years.
Vera had a very difficult childhood, losing both her parents at a very young age, and managed to survive with her 4 young siblings without food, shelter or adults to care for them at the end of the 2nd World War. She chose to make her life "better" instead of "bitter". Vera worked hard her whole life – right to the very end, taking care of details so that others would not be burdened with them. She always thought of others first, and still helped and encouraged others during her terminal illness while completely bedbound, and in her final months in palliative care at St. Joseph's Auxiliary Hospital.
One way she showed her love to everyone was through her wonderful cooking, baking, and by feeding everyone, and also by taking care of everyone when they were sick or in need. She will also be remembered for her warm hugs that she gave without reserve. She was truly the nicest and most genuine person we know.
Her greatest joy was having three wonderful grandsons and also that she got to spend a little time with her one and only great-grand-daughter. She will be dearly missed by her extended family and her many friends whose hearts she touched.
We wish to thank the staff of the Alberta Health Services Southeast Home Care Program, Bayshore Healthcare, and St. Joseph's Auxiliary Hospital for their care and kindness to Vera in 2016.
Vera always said that she knew what it was like to starve as a child, and no one should ever have to go hungry. So, in lieu of flowers, Vera requested that donations be made to local soup kitchens or to world organizations which directly feed the hungry (such as the children in Haiti).
A Celebration of Life will be held, Saturday, October 29, 2016 at 11:00 a.m. at the St. Boniface Church, 9510 – 101 Avenue NW, Edmonton, AB. Ample parking is located in the Grierson Centre parking lot directly west of the church.