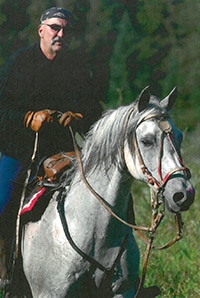 Victor Anthony Novakowski
On March 9, 2019, Victor passed away peacefully, at the Devon Hospital, from Cancer of the Esophagus at the age of 67.
Victor was born in Hafford, Saskatchewan on June 8, 1951.  He grew up on a farm and loved animals, especially horses.   He attended Krydor and Hafford schools and was involved in the business world for over 40 years.
Victor loved to travel and especially enjoyed spending the winter months in Mexico.  He also loved horseback riding, hunting, making sausage, and hosting many parties with family and friends.  Victor lived life to the fullest and was always willing to help others.
Victor is survived by his loving wife, Larysa Nalyvayko, sisters, Carol (John) Reeve and Connie Zezel, nephew Kyle (Jessika) Zezel and family, niece Melissa (Bobby) Warring and family as well as his many wonderful cousins, friends and business associates.
Victor was predeceased by his parents, Tony and Anne Novakowski.
At Victor's request, cremation has taken place.  A private Celebration of Life and interment of Victor's remains, at the St. Michael's Catholic Church, near Krydor, Saskatchewan, will take place at a later date.
To sign the book of condolences, please visit www.trinityfuneralhome.ca/obituaries.