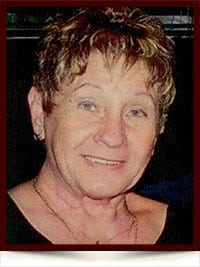 Viola Bourgoin ( nee Kirouac)
Viola Bourgoin ( nee Kirouac) passed away September 18, 2016 at the University Hospital in Edmonton Alberta after suffering a severe stroke at the age of 76 years old.
Born January 23, 1940 at Notre Dame de Lourde, New Brunswick to the late Doria ( nee Michaud ) & Emile Kirouac. The oldest of 15 children. Married Alveo Michaud on July 11, 1955 in NB and brought 10 children into the marriage. Alveo Michaud passed away from and accident March 31, 1971 leaving her with a large family.
In February 1977, left NB for Alberta with her best friend, Edgar Bourgoin & later became his wife & born her 11th child. Together with Edgar's adult sons worked all over Alberta doing construction. In 1988 they purchased a trap line #2360 and live on the line, trapping, hunting and fishing together. Retired in 2009 & resided in Caslan, AB.
Viola was an amazing woman, stronger than most, a loving wife, a great mother, adored by her grandchildren, a loyal friend and loved life to the fullest. She was a great cook, had a passion for reading & gardening, possessed amazing bush skills, loved trapping, fishing & hunting. She was Edgar's right hand in everything they accomplished in life.
Predeceased in death by her mother and father, Doria (nee Michaud) and Emile Kirouac. First Husband Alveo Michaud, three Brother, Reginald Kirouac of St Albert, AB, Leandre Kirouac & Marcel Kirouac of Grand Falls, NB.  Sister in Law, Rosemarie Kirouac,  One son in law, Dominique Carron from Rivera-du-Loup, Quebec, and a grandaughter Cindy Laundry.
Leaving to mourn in her passing, loving husband Edgar Bourgoin of Caslan, AB, son Ricky Bourgoin, wife Katherine & two grandchildren of Hope, BC
Children from her first Marriage
Marjolaine & Perry Fournier of Wallagrass, Maine
Danielle Michaud & Keith Scott of Caslan , AB
Bernice and John Madrazo of Edmonton, AB
Nancy Michaud of Rivera-du-Loup, Quebec
Hermel Michaud and Christine Boulanger of Edmonton, AB
Jocelyne & Yvon LeBlanc of Moncton, NB
Violette Michaud and Roger Laprise of Telford Mine, Quebec
Monique and Lyle Jensen of New Denmark, NB
Lisa Michaud and Michel Fillion of Lambtom, Quebec
Louise Michaud and Jim Mayes of White Horse, Yukon
Step Children
Raymond & Geraldine Bourgoin
Roland & Line Bourgoin of Drummond, NB
Bertin Bourgoin & Diane Morin of Drummond, NB
Jacques & Diane Bourgoin of Drummond, NB
Marcel Bourgoin & Linda Martin of Drummond, NB
Dina & Yvan Levesque of Drummond, NB
Jacline & Yves Levesque of Drummond, NB
Lise & Marco Gagon of Drummond, NB
Siblings
Elmer Kirouac of Drummond, NB
Juliette Madore of Van Buren, Maine
Roger and Edwina Kirouac of Grand Falls, NB
Clairmont and Solange Kirouac of Bristol, Conn
Micheline and Vincent Pelletier of Grand Falls, NB
Fernand & Laurie Kirouac of Iverness, Florida
Suzanne & Michael Dziob of New Hartford, Conn
Bernard and Diane Kirouac of Fort Kent, Maine
France & Reginald St Amand of Grand Falls, NB
Parise Kirouac & Alan Bell of Drummond, NB
Reid Grenier of Drummond, NB
Brian Kirouac and Manon Blanchette of St. Andre, NB
In-Law Siblings
Paul & Edwina Bourgoin of Drummond, NB
Alphonce & Marie-Mai Bourgoin of Drummond, NB
Venette & Gerald Michaud of Drummond, NB
Adrienne & Euclide Moreau of Massachusetts
Therese Bourgoin of Drummond, NB
Mariette Bourgoin of Drummond, NB
Emilia Bourgoin of Drummond, NB
Doreen Kirouac & Shirley Kirouac of Grand Falls, NB
Grandchildren 22, Great Grandchildren 43 & Great Great Grandchildren 6,
Plus Numerous Step Grandchildren
Many Nieces & nephews, Cousin and friends.
Cremation to follow with no services held as per her living will.
Address for Card for the family, Edgar Bourgoin - Box 109, Caslan. Alberta T0A 0R0
To Those I Love
When I am gone, release me.
You have many things to see & do.
You must not tie yourself to your tears.
Be Happy that we had so many years.
I gave you my love.. You gave me my happiness.
So grieve a while for me & then be comforted
by trust and your memories of my heart.
I will be near if you listen with your heart
and then when you must come this way,
I'll greet you with my smile.