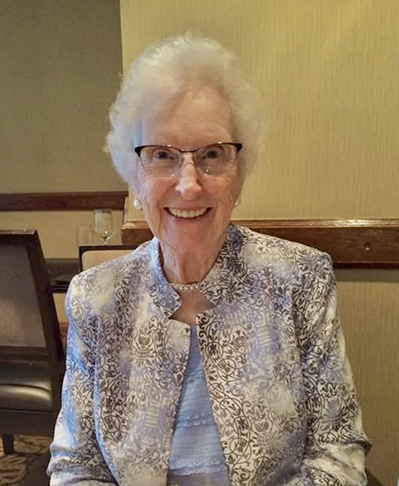 Violet May Neufeld
March 21, 1927
-
August 1, 2023
Violet May Neufeld was born in 1927 in Garson, Ontario and died on August 1, 2023, in Edmonton, Alberta.
Violet grew up in northern Ontario with her parents, 3 sisters and 1 brother. This is where she learned to swim and love camping with the family out at their cabin on the lake. Growing up in these times was never easy, but it sure was full of adventures.
After graduation Violet began working in the office at the Falconbridge Nickel Mine. This is where she caught Henry Neufeld's eye. It was love at first sight. This led to many dates dancing and socializing with family and friends. The two were soon married and Henry was busy building their first home in Sudbury, Ontario.
"Come out west", said Henry's brother Ab; so they packed up and moved to Creston, British Columbia.
Henry found his calling with Sun Life Insurance Company, and it wasn't long before they welcomed their first child, Deborah followed by Michael Victoria, Moria, and Cindy.
With Henry working for Sun Life, the family was transferred many times over the years, and always, Violet was at the centre, organizing packing and moving with the ever-present plaid picnic case that held hot coffee, lemonade, cheese, crackers, and tuna fish sandwiches with sweet pickles.
From Sudbury, Ontario, Creston & Kimberly, BC, Red Deer, Alberta, Bettendorf Iowa, Prince George BC to Edmonton. With every move, Violet quickly made friends and joined the nearest Anglican Church and Sorority. She was an amazing hostess, and her cooking was beyond compare. Because of her social skills, the house was always full of friends, family and fun.
Following the families move to Edmonton, Violet obtained her real-estate license. She loved to meet new people and help them find their forever home. With a growing family, she was kept very busy but always stopped for an opportunity for some family fun, whether a picnic in the park or a drive out to the lake. Her favourite food was hotdogs, fish n chips, the ever present tunamelt, and for a real treat, roast beef, and Yorkshire pudding.
Following the divorce from Henry in the md 80's, Violet returned to school, now in her 50's, to update her steno skills. She was proud to work for the CIBC until her retirement. It was at this time that the family came to realize that she was quite talented in many ways. The stories that she wrote for her writing class were amazing! Fun, informative, full of humour and historical tidbits of her life in Garson and Sudbury with her family. She followed this with art classes at the University of Alberta and the Strathcona Seniors Centre - what a talent! Her canvas came to life with beautiful images. These paintings now grace the walls of both her children and grandchildren.
Violet was a woman deeply involved in her community where she volunteered with Meals on Wheels; Organized Red Hat outings, bridge games, and tea parties as well as a lifelong love of her Sorority, Beta Sigma Phi, and the friends she made there.
A loving Mother, Grandmother and Great Grandmother, Violet was a good friend to many and kept in touch with her neighbours and friends throughout the years.
Violet leaves behind her daughters:
Deborah (Brad) Manz, Michael Victoria Moore, Moria (Brian) Robertson, and Cindy (Herb Waller) Neufeld.
Her grandchildren:
Kim (Justin) Crews, Sean Manz (Leslie Heinsen), Dana Rowe (Tamas Brown), Matthew (Aimee) Manz, Dayle (Tom)Pett, Nicole (Allen) Baker, Jessica (Kris) McColm, Alexandra Robertson, Hanna Waller, and Jacob Waller.
Her great grandchildren:
Charlotte and Alice Manz, Peyton and Nate Manz, Matthew Crews, Reese Rowe and Kais Brown, Isabelle and Georgia Pett, Zachary, Olivia, and Owen Baker, Eva, and Rowan McColm.
Sister:  Audrey Meyers.
Predeceased by:
Parents William and Victoria Smith, Ex husband Henry Neufeld,
Brother William Smith, and Sisters Jean MacLean and Patricia Monkman.
Violet will be missed by all including her surviving sisters-in-law and her many cherished nieces and nephews.
A Celebration of Life will be announced for the spring of 2024.