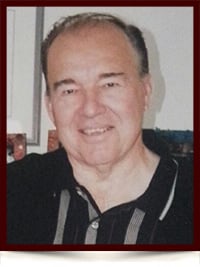 Walter Orest Yaremcio
On January 5, 2018, Walter Orest Yaremcio died peacefully, at home at the age of 82.
Walter will be lovingly remembered by his wife Cami of 25 years, 2 cats Roxey and Precious Termite, stepchildren Gregory (Kathryn) Lane, Teresa Anderson, Gregg (Sandy) Randall, Tracey (Lionel) Berthelette, 5 granddaughters, 1 grandson, 3 great grandchildren, brother Marshall (Yvonne), sister Dianna (the late Bruce) Buxton, aunt Mary Yaremcio, multiple cousins, nieces and nephews, great nieces and nephews and numerous close friends.
Walter is predeceased by his first wife Mary, parents Sophie and Alexander Yaremcio, grandparents and many aunts, uncles and cousins.
In lieu of flowers, donations may be made to the Salvation Army in Canada in Walter's name.
A private family Celebration of Life has taken place.