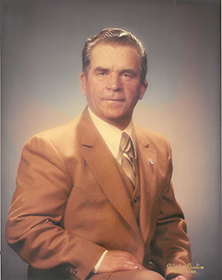 Walter Richard Brill
December 20, 1928
-
November 15, 2021
Walter Brill of Mayerthorpe, Alberta passed away peacefully on Monday November 15, 2021 the age of 92 years.
Walter will be lovingly remembered by his partner of 37 years, Nadine Campbell, his children: Marcus (Patty), Elsie (Gordon), Holly, Kay (Kenny), Norman (Valerie), and Bruce; 14 grandchildren: Richard, Sarah (Mike), Diane, Laura, Shawn (Ashley), Kelly (Cassandra), Chantelle, Klayton (Alyssia), Carriann (Stuart), Megan (Brandon), Paige (Cole), Jaiden, Alex, and Liam; 15 great grand children: William, Andrew (Merissa), Brandon, Riley, Colton, Shelby, Breena, Fox, Talia, Tyran, Amaya, Geronimo, Rhett, Silver, and Tanner; son in law Russell;  and sister: Yvonne(Maurice).
He was predeceased by his parents Robert and Susan, daughter Maryann, grandson Andrew, great grandson Eric, 5 brothers: John, Henry, Dave, Frank and Doug;  and 3 sisters: Mary, Elise,  and Verna.
A private family funeral will be held on Saturday November 20, 2021 at Crossroads Community Church, Mayerthorpe, AB. Interment will follow at the Mayerthorpe Cemetery.