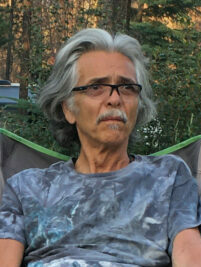 Walter Tony Laboucane
April 19, 1954
-
July 29, 2021
Walter Laboucane passed away on July 29, 2021 in the arms of his beloved wife Christel.
Born in McLennan, Alberta, he spent the majority of his life in the Edmonton area. Walter's interests were many and included, playing hockey, running, listening to music, art and jewelry making, collecting antiques, camping, drifting, tree planting, renovating and of course, spending time with his family. He was a devoted husband and father.
Walter was predeceased by his parents Victoria and James Laboucane, sisters Suzanne and Rose and brother Lloyd.
He is survived by his wife of 36 years, Christel; his children Micah (Allison), Jonah, Luke (Sara), Laila (Theo) and Noah; six grandchildren, William, Emilia, Ava, Theo, Jacob and unborn baby L'Heureux; two bonus grandchildren Caisen and Aubrie; his siblings, Archie, Yvonne, Darlene, Marlene, and Victor.
A Celebration of Life for Walter will be held at 2 pm on Saturday, August 7, 2021 at Bethel Lutheran Church in Sherwood Park, Alberta.
In lieu of flowers donations can be made to the Alberta ALS society. https://www.alsab.ca/donate