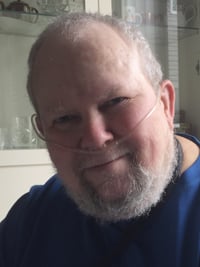 Wayne Alvin Watt
On Sunday, July 5, 2020, Mr. Wayne Alvin Watt of Edmonton, AB, formerly of Wainwright, AB, passed away peacefully in the Grey Nuns Hospital at the age of 68 years, with his soulmate and loving wife Wendy by his side. He remains forever in the hearts of his family, his cherished and devoted wife of 45 years, Wendolyn Anne (née Kuefler) of Edmonton, AB; daughter Nicole (Michael) Edginton of Edmonton, AB and adored grandson and best buddy Oliver; son Jefferey (Sarah-Jean) Watt of Edmonton, AB; his furry companions Hannah and Matilda; sister Linda (David) Christie of Millet, AB; brother Dennis Watt of Edmonton, AB; mother-in-law Ethel Kuefler (née Rombough) of Fort Saskatchewan, AB; brothers-in-law Warren (Donna) Kuefler and Gary (Margaret) Kuefler, both of Redwater, AB; Morris (Deborah) Kuefler of Edmonton, AB; and Wesley (Carolyn) Kuefler of Fort Saskatchewan, AB; sisters-in-law Brenda Murphy and Dianna Kuipers, both of Edmonton, AB; ex-brother-in-law Fred Kuipers of Edmonton, AB; long-time friends Guy (Georgina) Mitchell, Lisa Holtorf and Emily Kaldestad, all of Edmonton, AB; many loving aunts, uncles, nieces, nephews, great-nieces, and great-nephews; and numerous other caring extended family and friends.
Wayne was predeceased by his parents Alvin and Patricia Watt (née Stanton); father-in-law J. Gordon Kuefler; and great-nephew Cortlan Wahlstrom.
At this time, keeping with Wayne's wishes and due to Covid, there will not be a Celebration of Life. There will be a private internment at a later date.
We will forever be grateful to Dr. Samuel Lou and his wonderful staff at the Edmonton Kaye Family Clinic, Dr. Stephanie Smith, Dr. Niels-Erik Jacobson, Dr. Nadeem Pervez and the many staff over the years at the Alberta Cross Cancer Institute, as well as Dr. Megan Sellick, Dr. Dustin Mattie and Dr. Robin Fainsinger and their caring staff at the Palliative Tertiary Unit 43 of the Grey Nuns Hospital, and the Palliative Home Care Team.
The family would also like to extend our humble appreciation for the many thoughtful words, calls, cards, prayers and acts of kindness in our time of sorrow.
Because of Wayne's long journey with cancer, if so desired, donations may be made in memory of Wayne to the
Alberta Cross Cancer Institute at 11560 University Ave. NW, Edmonton, AB, T6G 1Z2 or to the Galahad Holy Cross Cemetery, where he will be laid to rest, at P.O. Box 165, Galahad, AB, T0B 1R0.