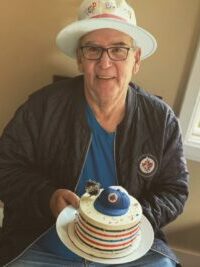 Wilfred Kenneth Little
July 7, 1945
-
May 1, 2021
'Red Bear Man'
July 7, 1945 to May 1, 2021
"It's hard to forget someone who gave us so much to remember."
It is with heavy hearts that we announce the passing of Wilfred Kenneth Little on May 1, 2021. Wilfred was a beloved husband, father, brother, uncle, grandfather, great grandfather, father in law and Elder. Wilfred will be greatly missed by family, friends and the communities in which he lived in throughout his life.
Wilfred died peacefully with his wife, Annabel by his bedside at Foyer Lacombe Hospice in St Albert, Alberta.
Wilfred lived life to the fullest and always wore his heart on his sleeve. Wilfred will be remembered for his kindness, guidance, teachings and stories that he provided to any one that he met on his journey.
Wilfred is survived by his wife, Annabel, his sons, Kenny, Clarence (Kassie) and Ryan (David). His grandchildren, Morgan (Dennis) and Reese. Great-Grandchildren, Mekenna and Tommy. Siblings, Ella, Leonard, Larry (Esther), Willie, Nelson, Elaine (John-Wayne), Dale, Sheri (Kirby) and beloved siblings-in-laws Barb, Joy, Ronnie and Sarah as well as many nieces and nephews.
Wilfred is predeceased by his parents Amos and Lorna, brothers Keith and Glen, siblings-in-law Billy, Caroline, Eric and Stan and nephews Keith Jr and Jamie.
The entire family would like to sincerely thank the Foyer Lacombe Hospice, Palliative Home Care and Nurse Practitioner Ashley May (East Edmonton Family Care) for all there support, care and kindness they have offered to both Wilfred and his family over the last two years.
As per Wilfred's wishes a cremation has occurred. Due to current COVID 19 regulations there will not be a funeral for Wilfred at this time. A celebration of life will occur for Wilfred at a later date.
"How lucky I am to have something that makes saying goodbye so hard." - A.A. Milne