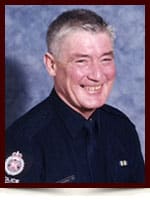 William Arthur MacDonald – aka ''Billy Mac"
February 7, 1949-June 18,2016
Bill passed away peacefully at the University Hospital after a 4 month battle with cancer. He will be lovingly remembered by his son Jamie, 4 brothers (Hugh, Alex, Ian and Jimmy) and 3 sisters (Loma, Janet and Eleanor). Bill will also be missed dearly by his devoted friend, Tracey Giroux, along with her son Christopher, as well as numerous work colleagues and golf buddies. He was predeceased by his wife Kathleen (Kay) and his sister Gina.
Bill was born in Clydebank, Scotland and was the youngest of nine children. At an early age the family moved to Rushden, England where most of his siblings are still residing. Following family tradition he was accepted and trained in the Royal Marine Corps and played in the Royal Marine Band. While stationed in Kent, he met and married his future wife Kathleen. In 1976, Kay and Bill immigrated to Canada, settled in Edmonton and Bill joined the Edmonton Police Service.
After 25 years of dedicated service to his community, Bill retired from the Edmonton Police Service in October of 2001.
Celebration of Life
2:00 p.m. on Thursday, July 7, 2016
Trinity Funeral Home
10530-116 Street NW Edmonton, AB.
In lieu of flowers, donations may be made in Bill's memory to the Canadian Cancer Society