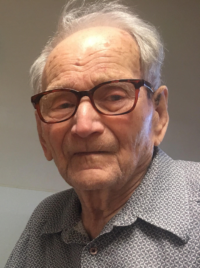 William (Bill) Yewchuk
August 11, 1926
-
October 22, 2021
It is with deep sadness that we share the news of the peaceful passing of William (Bill) Yewchuk at the age of 95.  He will be profoundly missed and lovingly remembered by his wife of 63 years Sofia, his son Barry (Janice), daughter Kathy (Allan), grandchildren Corrin (Owen), Drew (Ris), Ross, Bill and Scott.  He will also be sorely missed and fondly remembered by his sister Lil (Ted), brother Lourie and niece Heather.
Bill was born in Verba, Ukraine and came to Canada when he was two years old.  His family settled near Ardmore, Alberta where they worked hard to build a family farm.  Bill had several jobs over his lifetime, including logging in BC.  After he married Sofia and moved to Edmonton, he quickly became a carpenter and built many beautiful homes for people to enjoy.
Perhaps next to his love of his family, was his love for fishing – both in summer and winter.  It still brings a smile to remember the time he lovingly pulled 4-year-old Kathy out of an ice fishing hole.
Bill was a loving husband, father and grandfather.  His grandsons Bill and Scott have cherished memories of him babysitting and spoiling them while their parents worked.  Although a quiet and gentle man, Bill had a great sense of humour, and until the end, had the family laughing with his wit.  We will never forget the twinkle in his beautiful blue eyes and although we are so sorry not to be able to see him, we know that he is at peace.