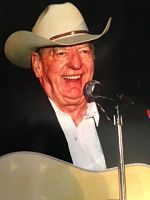 William Fredrick Beverley (Bev) Munro
March 24, 1929 - April 04, 2018
Bev was born in Boissevain Manitoba March 24, 1929.
He was predeceased by his Mom Jean in 1982, his Dad Scotty in 1986 and granddaughter Stephanie Cantley in 2005.
Bev worked for Manitoba Power before starting in Radio at CKX Brandon. He was stricken with tuberculosis in 1947, 1948 and again in 1953 and spent 1 1/2 years in the sanatorium where he formed his first country band "The Pembina Valley Boys" and toured the Prairie Provinces until 1956 when he became a DJ in Dauphin Manitoba.
He was chosen Mr DJ USA with Ralph Emery at W.S.M. in Nashville Tennessee in 1959 and inducted into the Canadian Country Music Hall of Fame in the DJ category in 2002.
Over the years he recorded for Capitol Records and did many shows with stars of the Grand Ole Opry, many of whom became personal friends. Bev was a DJ for 38 years retiring from CFCW in Camrose and then went on to tour with the Canadian Country Music Legends. He loved traditional country music and the people who performed it.
Bev is survived by his wife Donna and her two children Dale (Lori) and Daryl, sister Margaret (Jim) Kaczmar, niece Heather (Corey) Wirum and nephew Duane of Calgary AB, two sons Randy (Debby) of Nanimo BC, Darcy (Barbara) of Airdrie AB, four daughters Kerri (Jim) Skibinski of Alberta Beach AB, Carla (Dale) Trach of Coquitlam BC, Barbara (Ray) Cantley of Wetaskiwin AB and Cheri-Lee (Dario Sgiarovello) of Hamilton ON, eleven grandchildren, four great grandchildren and numerous relatives and friends.
Cremation will take place and at his request there will be no service.
If so desired donations can be made to the S.P.C.A.