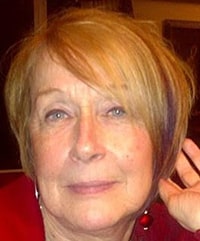 Wilma Chatschaturian
Wilma Chatschaturian passed away peacefully on the evening of June 2nd 2019, at the Edmonton General Hospital, after a long and courageous battle with cancer.   The family would like to extend a very heartfelt Thank You to Dr. Thomas Ranieri for the extraordinary and compassionate care he has always provided for Wilma.  The family would also like to thank the nursing staff at the General Hospital hospice for the kind and loving care they provide to all of the patients in hospice.
Wilma will be remembered and celebrated each and every day by her loving husband Dennis Bernier, her three daughters Toby (Curtis) Fald, Tara Chatschaturian, Debbie (Sean) Kennedy and her three step children, Brody, Courtney and Brittany Bernier. Grandchildren; Kelly, Destiney, Kaitlyn, Hannah, Tatiana, Tayva, Maya, Austyn, Brayden and Kaeden, will forever miss their Oma but will cherish and celebrate her always.
Wilma will also be remembered by her three sisters Patricia, Maryke, and Loretta.
Wilma is predeceased by her loving parents Rex and Wilma Glasspoole and first husband George Chatschaturian-her high school sweetheart and father of her three daughters.
Mom/Oma's work here is now done, she received an offer she could not refuse and once accepted there's no return ticket back. The offer has many perks.  Mom will be reunited with family and friends, she'll be socializing with lots of laughter and catching up. Mom's new assignment takes her to a glorious location and has her improving the place with her expert renovation skills as well as tending to the many gardens.  Mom and Dad loved to dance together and they are now in charge of the two step and jive classes.  Mom is a close friend of Bill W, so she'll be busy chairing many meetings.  Mom will also be spending time with all her many pets that went before her.  Mom's love for animals will have her cuddling her pups everyday.
Mom has one request for all of us left behind; celebrate her life, travel to far off places, eat good food, and above all Love each other to the Moon and Back! Never good bye always I'll see you again someday.  Mom's beautiful life will be celebrated with family and close friends in July.