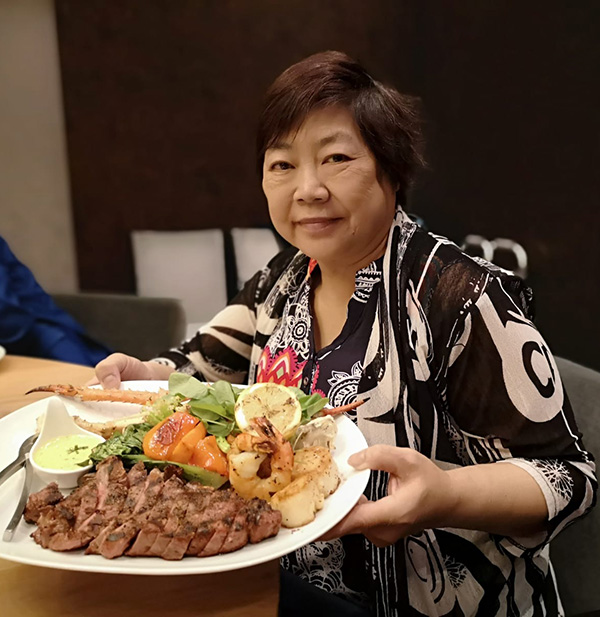 YU (Ho), Sally Yuen May
YU (Ho), Sally Yuen May passed away suddenly at the tender age of 65 years. Sally was born in Nam Hoi, China and raised in Hong Kong with her two sisters where at a young age, her spunky attitude was full front and centre. Sally was never one to hold her tongue when she was being teased and would happily take it and dish it back with ease. Many tales have been told about witnessing or experiencing Sally's verbal combat in action.
In 1979, Sally married Charles where they made their way from Winnipeg to Grande Prairie to La Glace and opened the A&A Café. During their time in La Glace, they raised their three children and met many wonderful people who became their extended family. Sally ran the front of the restaurant and took serving customers very seriously, it was an art form and not just a job. Sally passed on her tips and knowledge to many servers that passed through the doors of the A&A Cafe. When not at the restaurant, Sally could be found at her children's sporting events from ringette to football cheering loudly from the sidelines and beaming with pride.
Once her three A's were self-sufficient, Sally took to tending to her fur babies with a vengeance and her kids would often tease her she loved the puppies more. She would just smile and nod. Besides spoiling her children and puppies, Sally had other interests like reading books, attending to her plants, giving warm hugs to many, lending a listening ear, going on adventures (travelling,concerts, festivals, parades), chatting about growing up in Hong Kong and taking her friends and family on numerous food adventures.
Sally would always set aside time every day to speak to her parents and sisters to make sure they were okay.
Sally was not defined by her kidney transplant and always went out of her way to ensure everyone was happy and having fun. Even in her darkest moments, Sally always gave people hope.
Sally was predeceased by her husband Sze Ho (Charles) Yu, fur baby Bo-Stitch, maternal and paternal grandparents.
Left to mourn her are her three children: Amanda (John), Ashley and Austin. Fur babies Maybo and Ewok as well as grand fur baby Mimmzy. She is survived by her parents Ho Fat and Chan Man Ching and her sisters Ho Yuen Wah (Wong Hung) and Ho Yuen Pan; nephew Wong Ho Lam (Coco); nieces Wong Sau Kwan (Fabian) and Wong Sau Ying (Fung Wai Lun). Sally will be dearly missed by her numerous relatives and friends.
The family would like to thank the staff at the U of A NARP Team for their care and support of Sally over the last 30 years.
To celebrate the memory of Sally, the family is asking everyone to wear purple on October 15 as it was Sally's favorite colour.
A public viewing and a private service by invite will be held on October 15, 2020 in Edmonton at Trinity Funeral Home (10530 - 116 Street). Viewing starts at 9 am and service begins at 10 am.
Flowers can be sent to Trinity Funeral Home for October 14. Or Lieu of flowers and in memory of Sally, her children will be donating Lilac trees to a yet to be determined location. Contributions can be sent to ​lilacsforsally@gmail.com
Donations can also be made to the Stollery Children's hospital or charity of one's choice.
A Celebration of Life will be held during 2021 in Grande Prairie. Details to be released at a later time.