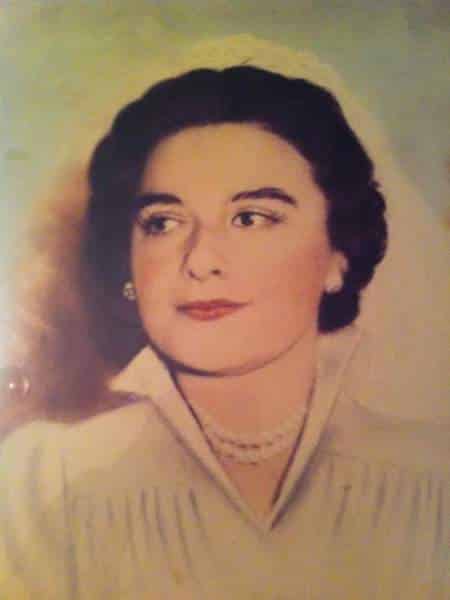 Zaira del Carmen Munoz (Suazo)
Zaira del Carmen Munoz (Suazo)
April 25, 1941 - December 31, 2020
Ahh, momma… what can be said about you since words fail to capture how immense your being, light and love is and how much it touched us, your entire family, friends and everyone with whom you came in contact.  So much was your unconditional love and belief in goodness that any of our wrong doings were always met with tenderness and second chances.  Your radiant warmth and pleasant personality won the affections of everyone you met even when your cancer journey began. Your doctors and family friends were no exception as they cared for you as if you were their own mother.  Our family always new that we were raised by an angel, Mother Teresa like, as your unconditional love, kindness, gentle smile and beauty melted all of ours hearts when we came close to you.
Your immense strength and courage always came through for the love of your children Mauricio, Manolo, Mariano, Eliaz and your beautiful daughter Fabiola.  Not many would fathom or can imagine to follow their true love of their life, your husband Rolando, from your birthplace of Santiago, Chile across the Cordillera de los Andes to Argentina in a taxi during times of a brutal dictatorship and tremendous uncertainty with your young boys and your new born daughter.  Please know your selflessness and gracious actions will always be part of our family's legacy. 🙏
Besides the immense passion you have for all of your family, grandchildren and great-grand children, was your love of clothes & shopping lol, dance, music, FOOD and socializing!  Your love of food was so great that we all kidded how we were not going to hear a peep from you for at least an hour during our family meals. And God save us all if you missed a meal as your true lioness heart came roaring out. 😊
Another amazing gift you taught us by example was the power of prayer and loved that we grew up with the freedom to express ourselves as we see fit when it comes to connecting to Source.  Thanks for the enlightenment and simplicity of what this truly means.
You left us with so much to ponder, remember, emulate, to cherish, celebrate and honour you by.  One thing is certain, we are elated to know you reached your blissful destination and are rejoicing with your beloved family members across the veil and awaiting us in due time.
We love you mom! ❤️
Mom left detailed instructions for her large and beautiful family in Canada and in Chile to celebrate her life in joy! Anything else will not be tolerated. In addition, dressing with happy colours during her private family service is a must.
Mom's Life Celebration will take place on Friday, January 15 @ 10:00 am (MST), at Trinity Funeral Home, 10530-116 Street, in Edmonton, AB, Canada
Our family welcomes everyone to celebrate our mother's beautiful life!
The service will be streamed live via Zoom:
https://zoom.us/j/4511504715
pwd=dFFHUW9ibGloZXBhaUZsNnRiYm1SZz09
* We ask for everyone to please mute yourself and turn-off your cameras during the Zoom livestream as to ensure live stream quality and no unwanted interruptions.
-------------------------- * -----------------------
Zaira del Carmen Munoz (Suazo)
25 de abril, 1941 – 31 de diciembre, 2020
Ay, mamá…¿qué se puede decir acerca de ti? Ya que las palabras no logran captar lo inmenso de tu ser, luz y amor, y lo mucho que tocó nuestras vidas, las vidas de tu familia entera, de tus amigos y de todo aquel que te haya conocido. Tan grande fue tu amor incondicional y tu fe en la bondad que cualquiera de nuestras malas acciones siempre fue recibida con ternura y segundas oportunidades. Tu radiante calidez y tu agradable personalidad se ganaron el corazón y afecto de toda persona que te conociera, incluso cuando tu experiencia con el cáncer comenzó. Tus médicos y amigos no fueron la excepción, ya que cuidaron de ti como si hubieras sido su propia madre. Nuestra familia siempre supo que habíamos sido criados por un ángel, como la misma Madre Teresa, ya que tu amor incondicional, bondad, sonrisa y belleza amables derretían nuestros corazones al conocerte y acercarnos más a ti.
Tu inmensa fortaleza y valentía siempre se manifestaron por amor a tus hijos Mauricio, Manolo, Mariano, Elíaz y tu hermosa hija Fabiola. No muchos hubieran podido imaginar seguir al verdadero amor de su vida, tu esposo Rolando, desde tu tierra natal en Santiago de Chile, al otro lado de la Cordillera de los Andes hasta la Argentina, en un taxi, en tiempos de una dictadura brutal y de tremenda incertidumbre, con tus pequeños hijos y tu hija recién nacida. Por favor, debes saber que tu abnegación y tus buenas acciones siempre serán parte de nuestro legado como familia. 🙏
Además de la profunda pasión que tuviste por tu familia, nietos y bisnietos, sentías también una profunda pasión por la ropa, las compras, ja, ja, el baile, la música, la COMIDA, y ¡el socializar! Tu pasión por la comida era tan grande que todos bromeábamos que no te escucharíamos decir nada durante al menos una hora durante nuestras comidas familiares. Y Dios nos guarde si te perdías algún tiempo de comida, ya que tu corazón de verdadera leona salía rugiendo. 😊
Otro regalo maravilloso que nos enseñaste a través de tu ejemplo fue el poder de la oración, y nos encantó haber crecido con la libertad de expresarnos como mejor nos pareciera cuando se trataba de conectarnos a la Fuente. Gracias por la sabiduría y simplicidad de lo que esto verdaderamente significa.
Nos dejaste con tantas cosas por las cuáles meditar, recordar, imitar, apreciar, celebrar y honrarte. Una cosa es segura, estamos gozosos de saber que llegaste a tu destino maravilloso, y estás regocijándote con tus amados miembros de familia al otro lado del velo, esperándonos a su debido tiempo.
¡Te amamos, mamá! ❤️
¡Mamá dejó instrucciones detalladas para su numerosa y hermosa familia en Canadá y en Chile para celebrar su vida con alegría! No se tolerará nada más. Además, vestirse con colores alegres durante su servicio privado de familia es imprescindible.
La celebración de la vida de mamá se llevará a cabo el viernes 15 de enero a las 10:00 am (MST) en Trinity Funeral Home, 10530-116 Street, en Edmonton, AB, Canadá
¡Nuestra familia les da la bienvenida a todos para celebrar la hermosa vida de nuestra madre!
El servicio se transmitirá en vivo a través de Zoom:
https://zoom.us/j/4511504715
pwd=dFFHUW9ibGloZXBhaUZsNnRiYm1SZz09
* Pedimos a todos que se silencien y apaguen sus cámaras durante la transmisión en vivo de Zoom para garantizar la calidad de la transmisión y que no haya interrupciones no deseadas.