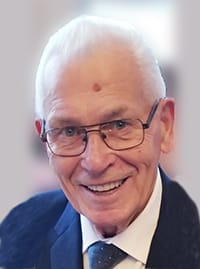 Zenon Krysztalski
January 7, 1929 – August 13, 2019
A strong man, he was until the end.  He was loving and kind, and would give his family the shirt off his back.  He was stubborn, and head strong, very proud and an extremely hard worker.  He fully retired from doing the job he loved, finishing concrete at the age of 75.
Zenon was born in Kutkir, Ukraine to Vasil and Valeria Krysztalski.  He passed away peacefully after a short battle with Acute Leukemia.
He met the love of his life; Finita in 1960, and married her in 1961.  They were inseparable until her death in 2014.
He was predeceased by his parents, two sisters, Olga and Marika, his loving wife of 52 years Finita, numerous sister in laws, brother in laws, nieces, nephews and friends.
He is survived by his daughters Loretta Soto and husband Carlos Soto, Mary Barone and husband John Barone, Grandchildren Samantha Montgomery (Reece Montgomery), Jaymes Barone, Stephanie Freeman (Nicholas Freeman), Anthony Soto (Nicole Soto) and three great grand children Arianna Freeman, Rome Montgomery and Sonny Montgomery.
The way he died, was the way he lived, proud and strong.  He wrote his own rules, he loved his family, and he made sure to visit as often as he could.  Zenon was his real name but everyone knew him as Nick.  He was always the life of the party, loved to play crib, tend to his garden, go to the casino, cook meals for his family, enjoy a shot of crown royal, and play with his great grand children.  His stories, and smile will be missed, but he will forever be in our hearts!
Thank you to the Doctors and Nurses at the Sturgeon Hospital Unit 28, for their care and compassion while he was on the unit.