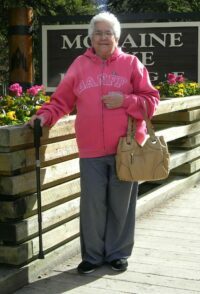 Ursula Fedak
March 17, 1931
-
August 18, 2021
Ursula Fedak (Heitman) loving mother and grandmother passed away peacefully in her sleep at Jubilee Lodge nursing home in Edmonton on August 18th 2021, she was 90 years old. She was born to Eleanor and William Heitman on March 17th 1931 in Parry Sound, Ontario. She is survived by her daughter Megan Gow and son Morgan Fedak, 6 grandchildren Aaron, Tyler, Ryan, Matthew, Martin, and Jacob, and 4 great grandchildren Caterina, Matteo, Ryan jr., and Arabella. She was predeceased by the love of her life, husband George Fedak, her son Marsh, daughter Shannon and grand daughter Eleanor.
After leaving Parry Sound to attend business school, Ursula began her life journey. She started out by working as a bookkeeper in Toronto then moving on to the Royal Canadian Airforce. It was in the Airforce where she would meet her future husband and love of her life, a handsome Ukrainian farm boy from Saskatchewan George Fedak, who may or may not have been truthful about his age. They were married in August of 1955 in Trenton, Ontario. Soon after that they were stationed in France in 1956 where they welcomed the first of their four children, Marsh Fedak. After three wonderful years in France they were stationed in Portage La Prairie, Manitoba where they welcomed Megan in 1959 and Morgan in 1960 to the family. Then in 1966 they moved to North Bay Ontario where they welcomed the final member of the family Shannon. After relocating to Wnnipeg for a few years they finally settled in Alberta where they would retire and welcome grandchildren.
Ursula had a love for nature and wildlife throughout her life. She had volunteered at a nature center and was passionate about bird counting and wildlife conservation.. She was often seen with her knitting needles in her favorite chair. Some of her other passions were opera, nature channel, Hallmark channel, and the occasional Bailey's and cream. Finally she really loved to travel, especially throughout Canada, the country she served and loved. As a mother she would often bake and attend all of her children's activities. Her personality was very friendly and she had never met a person she didn't like. She would knit and send letters to family and friends throughout her life. She touched many with her kind words and friendship. She will be deeply missed by many relatives and friends.
The family would like to express their sincere gratitude to Josie Giampa and the Jubilee Lodge nursing home for their care and compassion during her final days.
A graveside service will be held on September 3rd at 11:00 AM at Holy Cross Cemetery, located at 14611 Mark Messier Trail, Edmonton. In lieu of flowers, donations may be made in her name to the Canadian Cancer Society and Canadian Wildlife Federation will be greatly appreciated.