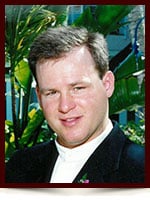 Lawrence (Kirk) Skocylas
Skocylas Lawrence (Kirk)
December 16, 1970 - January 30, 2015
After a short but courageous battle with cancer, Kirk passed away peacefully on January 30, 2015. He will be missed deeply by his loving wife Kellie, two wonderful boys Tyson and Cohen. Father Charlie (stepmother Kelly), Mom Calma (stepdad Rob), sister Peggy, stepbrothers Sean (Alice) Graham (Eva), father-in-law Dave, mother-in-law Joan, sisters-in-law Billie jo (Keith), Betty jo (Marcus), brother-in-law Gary, nieces and nephews, James, Brittney, David, Mariah, Tanner and Keyra as well as extended family and the many friends who knew him.
There are things we don't want to happen
but we have to accept,
things we don't know
but have to learn,
and people we can't live without
but have to let go.
Celebration of Life
February 14, 2015 at 7:00 p.m. to 1:00 a.m
Sherwood Park Log Cabin
50 Spruce Avenue, Sherwood Park, AB.
Memorial Donations
May be made to a trust for Tyson and Cohen Skocylas "SKOCYLAS FAMILY TRUST" at any branch of the Royal Bank of Canada (if out of province mention Alberta) or to the Alberta Cancer Foundation.
Contact Information: [wpseo_address oneline="1" show_state="0" show_email="0"]