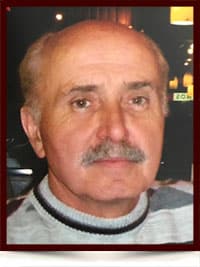 Achem Josef Repka
Feb 11 1947 - August 8 2017
On August 8 our Father, Grandfather and Center of Our Universe passed away suddenly. Joe was predeceased 8 months ago by his wife of 50 years, Waltraud. He was also predeceased by his baby daughter, Wanda, his adoptive parents Joseph and Anne Repka, biological mother, Eva Boetzel and brother, Roger. Joe leaves to mourn his recent Wife, Diane, Sons Bill (Erika), Ray (Samia), Grandchildren Krista, Tyler, Ray Jr. and Dean and Brother Lee (Lorna).
Joe was a ticketed electrical mechanic and worked several years doing so until the opportunity came to partner with his wife who was a professional pet groomer. Together they successfully operated Elmwood Poodle Boutique and in the 1980's relocated to Edmonton's industrial west end. Elmwood Pet Day Care was born and shortly after R&R Sharpening came to fruition. Joe was very well respected over the last 3 decades as a sharpening shop staple in Edmonton.
Joe enjoyed a simple life but he also strived to work. He was incredibly proud of his business accomplishments.
Joe lived a challenging life from childhood to his dying day. He overcame almost anything that the world threw at him but couldn't conquer the battle of losing his soulmate.
A Celebration of Life will be held at our family river property. Please join us to celebrate by heading west on Yellowhead Trail, South on Range Road 32, West on Highway 627, Range Road 33 and follow road until you see the "Celebration of Life" signs.
In lieu of flowers, please consider a donation to the Alzheimer's Society or the Humane Society