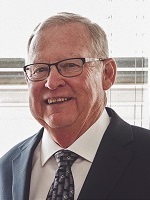 Alan Douglas Wood
On March 21, 2018 Alan Douglas Wood of Sherwood Park, AB, passed away peacefully at the age of 74 years.
He is survived by his loving wife of 40 years, Elizabeth, his children Jennifer (Tyson), Jonathan (Jenn), and Joanna (Jesse); and 5 beautiful grandchildren Hailey, Emma, Nicholas, Leah, and Kellan; his brothers Larry, and Kevin (Heather); parents-in-law Harry and Linda Lemke, as well as numerous relatives and friends.
He was predeceased by his father and mother, Gerry and Ruth Wood, sisters Fiona and Erica, and sister-in-law Patti.
Memorial Service
Thursday April 5, 2018 at 11:00am
Glory Lutheran Church
22577 Hwy16 Sherwood Park, AB
In lieu of flowers, memorial donations can be made to Glory Lutheran Church Memorial Fund (www.glorylutheran.ca) or to the Strathcona Community Hospital Foundation.