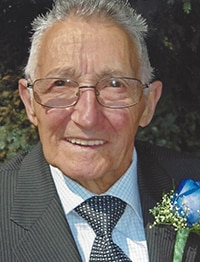 Alfonso Rosselli
With heavy hearts our family announces the passing of Alfonso Rosselli on Thursday April 11, 2019 – with his loving family by his side.
Alfonso leaves to mourn his beloved wife Teresa (Trapasso) of 56 years, daughter Rosina, son Joseph and daughter-in-law Jamie Pytel, son Angelo, son Antonio and daughter-in-law Laurel, his precious grandsons Alfonso (Alfie), Paolo, Leo and Geno. He also leaves to mourn many loving relatives and friends throughout Canada, Italy and the United States.
Alfonso was born in Gimigliano, Catanzaro Italy, on July 13, 1929 to Giuseppe and Rosina (Gigliotti). He was the youngest child and only son – with seven older sisters.  After the passing of both his parents, at a young age he moved to Latina, Italy and lived with his Aunt Maria and Uncle Ferdinando (Guiglia) and their four children. There he apprenticed under his uncle as a finishing carpenter. In Italy, Alfonso studied music and was a master at playing the saxophone. He was part of several bands that he traveled with across the country playing at various venues. He eventually moved back to Gimigliano, where he met and married his soul mate – Teresa. Two years after the birth of their daughter they immigrated to Edmonton where their three sons were born and where they lived and raised their family in the Faith.
Alfonso was a man of great faith, integrity, kindness, and generosity. He had a brilliant mind with a stunning memory, was meticulous and strived for perfection in all he did. Throughout his many illnesses he suffered in silence and thanked God for his many blessings. His favorite things were listening to classical music, gardening, reading and 'Pasta Sundays' with his family. He loved animals and cherished his pets.
He was a wonderful husband, exceptional father and nonno. Alfonso was very proud of his family and he leaves them his legacy of love, faith, hope and perseverance.
Public Visitation
Tuesday April 16 2019, 6:00PM - 9:00PM
Trinity Funeral Home
10530 116 Street, Edmonton AB
Mass of Christian Burial
Wednesday April 17, 2019 11:00AM
St. Andrew Catholic Parish
12810 111 Avenue, Edmonton, AB
Interment
Wednesday April 17, 2019
Holy Cross Cemetery
14611 Mark Messier Trail, Edmonton, AB