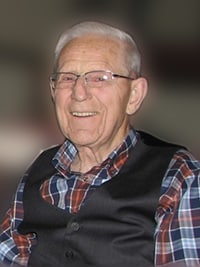 Alvie Arnold Esau
Alvie Arnold Esau passed peacefully into the arms of Jesus on November 22.2018 at the age of 93 years.
Alvie was born in Swalwell, Alberta on October 4. 1925, the third son of John and Margaret. As a young man he placed his faith in Christ, and his greatest purpose throughout his life was to give testimony to that faith.
In his early years he farmed at Crooked Creek, Alberta but his true calling was building. He built his own house on the farm and then went on to pursue this as a profession in Kelowna, Medicine Hat and then again in the Grande Prairie area. Family was very important to Alvie.
He was a devoted husband and his greatest joys involved helping his children and grandchildren.
Alvie is survived by his wife of 69 years, Rozella; children Lyle (Stella). Rick (Glenda), Wanda (Dennis) Franke. Wanita (Daniel) Jemsalimiec. Robin (Cindy); 13 grandchildren and 10 great grandchildren.
The family wishes to thank the entire care team at the Good Samaritan Dr. Gerald Zetter Care Centre for their compassionate care and support during the past two and a half years. A special thanks to Chaplain Orlow and his wife Carrie for providing Alvie and Rozella with loving pastoral care.
Funeral Service
Saturday December 1, 2018 2:00PM
Trinity Funeral Home Chapel
10530-116 Street. Edmonton