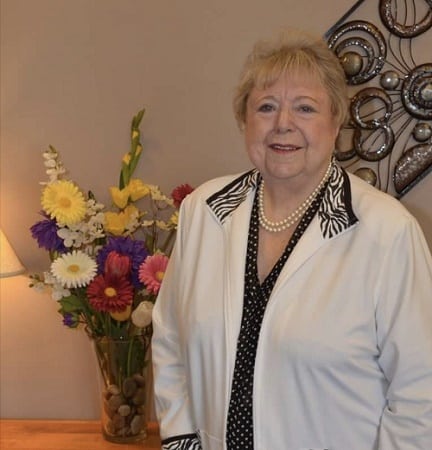 Amelia (Lia) Pauline Andrews
It is with deep sorrow and heavy hearts that the family of Amelia (Lia) Pauline Andrews announce her passing on December 25, 2020 in Edmonton, Alberta. After experiencing many health challenges throughout her lifetime Amelia finally faced her last battle with the Coronavirus and lost.
Amelia was born April 8, 1936 in Bordenave, Alberta to Arthur and Pauline Andrews. Amelia was the second of ten children and is survived by her younger brother Arthur "Sonny" and sisters Minerva "Betty" and Debrah "Debbie".
Amelia lost her son Kevin in 2007 and will be lovingly remembered and missed by her daughter, Audrey; grandchildren: Christopher, Michelle (Ryan) and Thomas; great grandchildren: Avery, Veda, Ruby and Jack; as well as numerous relatives and friends.
Amelia graduated from the Alberta Hospital with her nursing degree in 1956 and went on to spend her career working with people living with mental health and physical disabilities. She played a major role in developing and providing services and programs working with CMHA in Edmonton and then moving to Calgary to join the Government of Alberta's Social Services Department to continue her work as a crisis worker and social worker. She continued her education and graduated from the University of San Francisco in 1982. Amelia retired at age 55 but continued to volunteer and be an active member in her community.
Amelia loved life and loved to travel. For the next chapter of her life she set out to see as much of the world that she could and made her way across Canada, Europe, China, Australia, New Zealand, the Caribbean, Mexico and the US. Amelia's gift of conversation was like no other and is what connected her to the many people she met along the way. As eager as she was to set foot on these travels she was equally as eager to return home to share her stories and pictures with family and friends.
Amelia had an interest in her heritage and history; she loved to hear and tell the stories of her family's life on the homestead and farm. She would never let you away with a complaint about life's hardships because the conditions of her childhood experience growing up couldn't be compared.
Amelia loved being around her family and friends and never hesitated to challenge anyone to a game of cards or a board game. She had a quick sense of humor, would try anything once and loved a good joke. She would never turn down a back rub or a foot massage and was always happy to return the favor.
Amelia was kind, generous, caring, faithful and loyal. She wore many hats in her life as a daughter, sister, wife, provider, mother, aunt, grandmother and friend. We will all hold her close to our hearts and will miss her very much. May she rest in peace.
There will be a virtual service for Amelia on Friday January 8, 2021 at 1:00PM
Those wishing to download a high resolution video of the service in it's entirety can do so by clicking the following link and downloading the video (warning large file size 5.5GB):
Funeral Service for Lia Andrews