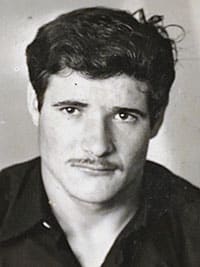 Antonio Brasileiro Pedro
Antonio Brasileiro Pedro, known to friends and family as "Antone" or "Tony", passed away on July 21, 2020, at the age of 75.
He is survived by his wife Maria Esteves Pedro, his son Domingos Esteves Pedro (Melanie Pedro), Elizabeth Esteves Pedro (Timothy Per Lydom), and Fernando Esteves Pedro (Melanie Rachar), and his grandchildren Jacob Pedro, Cassie Pedro, Stephanie Deschenes, Andrea Deschenes and Alex Cysouw.
A native of Soajo, Portugal, Antonio was the oldest child to Domingos Brasileiro Pedro and Sofia Barros Brasileiro Pedro, followed by siblings Rosa Brasileiro Pedro and Demantino Brasileiro Pedro. He was married to Maria Esteves Pedro for 53 years.
At the age of 28, Antonio and Maria moved with the children from Soajo, Portugal to Edmonton, Canada. They lived with family in North Edmonton for one year before purchasing their first home in 1974. Antonio was a member of the Carpenters Union of Alberta for over twenty years. Even if he occasionally forgot to use a tape measure, he still put everything he had into his building projects. He worked hard and instilled the same work ethic in his children.
He says spoke 4 languages, although we rarely heard the Italian. He was an animal lover and the family shared their home with many special pets throughout the years. He was an amateur musician playing the accordion and the fondly remembered castanets. He enjoyed gardening and cycling. He adored his grandchildren and they were a constant source of joy to him and Maria. His use of Facebook helped him stay in touch with friends and family in Portugal. He took joy out of sharing life in Canada and Portugal with both sides of the screen.
Rest in peace Antonio. You were loved and will be missed.
Due to current COVID-19 situation attendance will be limited to registered guests only.
Mass of Christian Burial
10:00AM Monday July 27, 2020
Our Lady of Fatima Portuguese Church
12311-55 Street Edmonton, AB
Interment
St. Michael's Cemetery