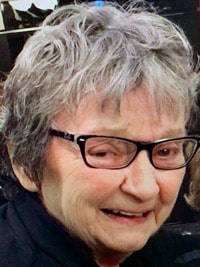 Barb Halasz
It is with great sadness that we announce the passing of our Barb, on September 19, 2020 in Edmonton.
She will be lovingly remembered by her husband John of 63 years and their children Cal (Cindy), Darren (Tracy), Michele (Darcy) Marvet (Nick), Shane (Marjorie)
She also leaves to mourn, 12 Grandchildren and 16 Great Grandchildren.
Barb was predeceased by infant son Curtis Joseph.
Barb was born on May 28, 1941 in Nelson BC.  She met John in Oxbow Saskatchewan and together they moved to Edmonton and were married in 1957.
In 1958 they started their family. Raising kids was Barbs unique gift. She had a way of making every child and grandchild feel so loved connected and special to her. This did not stop there, anybody who knew Barb felt the same way.
She was diagnosed 3 years ago with Alzheimer's and then recently diagnosed with terminal Cancer.  After a painful struggle, she is now at peace.
For the past few years, "Dad has been her memory, while she was his ears." He cared for her and protected her right until her passing.
She will continue to live on in all of us.
A private celebration of life will be held on Saturday, September 26, at Trinity Funeral Home. Unfortunately, because of Covid we are unable to celebrate Barb's life in a traditional way, so we ask that you share a memory and have toast in Barb's honour.
In lieu of flowers you may honour Barb's memory by making a donation to CapitalCareFoundation.net (Norwood Palliative Hospice), where Barb spent her final days.