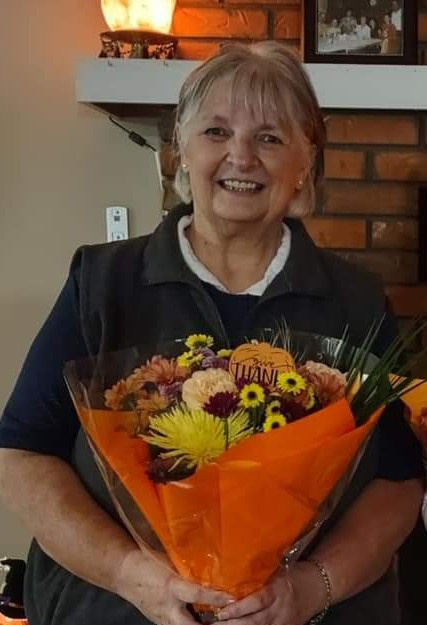 Barbara Ann McKenna
February 2, 1954
-
April 20, 2023
Barbara McKenna passed away peacefully on April 20, 2023 in Edmonton, Alberta, at the age of 69. Barbara is survived by her two sons Robert McKenna (Yasmin) and Ian McKenna (DeAnne), grandchildren Rhylie McKenna, Rhyder McKenna and Ashleigh McKenna, her brothers Ross Druskin, Allan Druskin (Sandy), Brian Druskin and Dale Druskin (Irene) as well as her extended family in British Columbia, Alberta and Ontario.
Barb was born on February 2, 1954 in Calgary, Alberta. Her family moved to British Columbia and she lived in Lumby, British Columbia for most of her life with her long time friend and sister-in-law Maryann Druskin. Barb was a fierce, independent person who lived life to the fullest on her terms. She worked at Polson Extended Care, in Vernon, for over 30 years as an activity worker. Being at work everyday with the residents and her co-workers brought her so much joy and everyone became a part of her extended family. She put her heart and soul into her work and would go shopping on her own time with her own money to buy supplies and goodies for the games, treats and activities for the residents. She had immense creativity, energy and motivation to follow through with her ideas.
She was a tremendous advocate for the residents' emotional and social well-being and their existence as humans. They all needed the same entertainment, love, food, pure enjoyment that the rest of us had. She would stand up for any injustice she saw whether with residents or co-workers but was also quick to crack a joke or pull a prank.
After retiring in 2014, everyone at Polson would say, "there will never be anyone like Barb" and "Barb was the best activity worker". She was passionate in her work every day and impacted so many people's lives. Her legend as an activity worker will live on with all who worked with her.
Barb had a love for animals and cared for many dogs and cats over the years. So many dogs that included Toby, Rambo, Burt, Reno and Rosie just to name a few. She loved each one as family and cared for them deeply. She had an opportunity to travel to Europe after being pushed onto the plane and she frequently would share her memories of the trip. She loved to play bingo and go to the casino to try her luck on the slot machines. She cherished her trips from Lumby to Edmonton to spend time with all her grandchildren and family.
Barb was a loving sister, mother and nana to her family and a caring friend to all that knew her. To honour Barb's wishes, there will be no funeral service. We invite everyone who knew Barb to celebrate her life by keeping your memories of her in your thoughts and hearts.