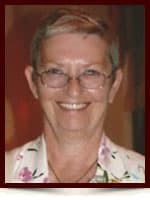 Barbara Jean Daly (nee Mullen)
Barbara Jean Daly (nee Mullen) age 69 died at Misericordia Hospital on August 5th 2015. She was born in Vermillion Alberta on February 20th 1946. She lived in Elsa & Whitehorse Yukon, Kamloops BC, Hinton, Fort McMurray and Edmonton Alberta. Survivors include her loving husband of 49 years, Art Daly, children Michael(Adele), Kevin(Kimberley) and Kerri(Joe). Grandchildren - Rayna, Colton, Camille, Calissa and Ashley. Siblings – Edith Fisher, Peggy Szoo, Robert Mullen(Gail) and brother inlaw Duffy Dufault. PreDeceased by her parents Robert Mullen, Mary Mullen (nee McGinnis), her sisters Esther Wotherspoon, Colleen Dufault.
A private celebration of life was held on 6 Aug 2015
Remember me with smiles not tears, for all the joy through all the years. Recall a closeness that was ours a love as sweet as fragrant flowers
Thank you to Misericordia Hospital staff & Doctors for their care of our mother.
Special thank you to nurse Sonya, and Stacy for exceptional care given to our mother and us while there.