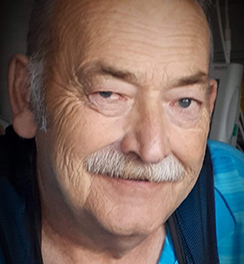 Barry Eugene Swartz
The family of Barry Swartz, of Donalda, AB is heartbroken to announce his passing on April 11, 2020 at the age of 63 years.  Barry's wife, his daughter and his niece were by his side as he gained his wings.
 Barry fought the battle of heart disease for many years which brought him to receive the most precious gift of a donor heart in January of 2020.  Barry will be remembered for his bravery and his strength by his wife of 30 years, Norma Swartz; his daughter, Crystal Swartz; his sons, Anthony (Kat); Micheal (Rowena); grandkids, Kyrha, Jesse, Shayla and Minocher as well as many nieces, nephews, relatives and dear friends.
Barry was predeceased by his sister, Sharon Swartz; sister, Shiela Swartz; brother, Garry Swartz and parents, Ernest and Marion Swartz.
Growing up, Barry's early years were spent in Lac Ste Anne until his family relocated to St. Albert, AB where he lived until he was an adult. Barry then moved back to Alberta Beach, AB where he spent many years living and raising his own family.
 As a Boilermaker with Local #146, Barry had the privilege of travelling throughout Canada for work.  Upon retirement from his career, Barry and his wife travelled through Canada and the United States until they settled in Hodgeville, SK.  They made a home there until the decision was made to move to Donalda, AB as Barry needed to be close to the hospital to prepare for his heart transplant.
Barry had a passion for music and was a very talented guitar player.  He also spent his spare time working on a wide variety of personal projects that always kept him busy.  Later in life he also discovered a love of working with rescue cats.  He enjoyed the cats and they sure did take a shine to him and his caring nature.
Barry will be truly be missed by many but forever in our hearts.
A Celebration of Life will be held at a later date.
In Lieu of flowers, memorial donations can be made to the Feral Cat Network of Alberta, Box 97, Donalda, AB  T0B 1H0 or e-transfer to twodogsand1cat@gmail.com