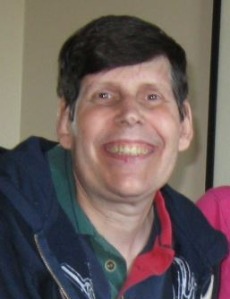 Blaine Edward Watson
March 7, 1956
-
September 18, 2023
It is with sadness and much love that we say goodbye to our beloved brother, uncle and friend Blaine Edward Watson who passed away on September 18, 2023 at the age of 67 years (born March 7, 1956 in Edmonton, Alberta).
He is survived by his sisters Maxine Watson and Shelley (Rob) McCaskill (nee Watson), nephews Brad Watson and Jordan McCaskill and great nieces and nephews Denae and Austin Watson and Ronan and Mayari McCaskill as well as his very good friend Tracy (whom he called "Sunshine"). Blaine was predeceased by his mother Jacqueline Watson (nee Davey), father David Kelsey Watson and brother David Watson.
Blaine lived his life with a cognitive impairment, but had a glint in his eye and a ready smile and laugh. He was very social and enjoyed many great relationships throughout his life. Some of his favorite past times were delivering newspapers with Putt for 25 cents/day, riding his bike as a youth, swimming, bowling, DVDs, Batman, Dukes of Hazard, Louie… and the list goes on!
Blaine will be cremated, and a small Celebration of Life will be held at a later date.
The family wishes to express their sincere gratitude to doctors and nurses who have provided care for Blaine and especially to the staff and Blaine's peers in the Robin Hood Association who provided a caring and engaging home for Blaine for many years, including the opportunity to be at home with familiar people and surroundings for his final days.
Memorial donations in Blaine's honour may be made to the Robin Hood Association, Sherwood Park, AB.