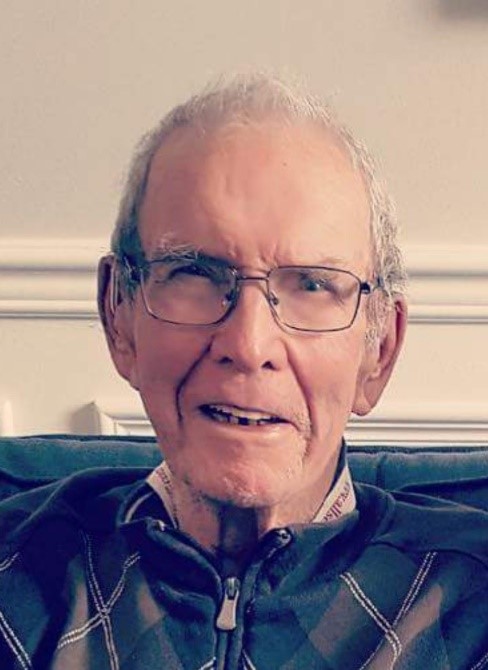 Bryce Albert Powell
It is with great sadness that we announce the passing of our beloved Father, Grandfather and Great Grandfather Bryce Powell on March 11, 2020 at age 92.  Dad died peacefully in hospital listening to some of his favourite music with two of his daughters by his side as well as visits via face time from his New Zealand family.
Bryce Albert Powell was born on February 3, 1928 in Balcarres Saskatchewan.  Bryce was the youngest of 7 children.  He spent his first 16 years living on his parent's farm in Balcarres where his love for everything related to farming and the great outdoors began.
At age 16 Bryce moved to Langley, BC with his parents. He started working at CN Railway first as a yard man then welder fabricator and finally as a self-taught crane operator.  He continued working there for 27 years until 1972. His passion for trains never left him and it carries on with his grandkids.
Bryce met his future wife, Kay in 1950 at a dance in Cloverdale. They married in August 1952 and together had 5 children. Mom and Dad continued living in Langley and raised their family to appreciate summer vacations at the local campgrounds, Sunday afternoon drives (ice cream cones were a must) and picnics and swims at White Rock Beach.  Dad coached Little League Baseball and was always the local chauffer for any events that came up.  Dad was very active in the Fernridge community and never missed a chance to go dancing with Mom.
Their love of travelling and adventure was the driving force to move their family to New Zealand in September of 1972.  Bryce and Kay lived in Tauranga, Whakatane and finally Papakura before returning to Canada in 1980 as all their children and families made the move back to Canada as well.  They returned to Langley where Bryce worked at Salton Fabrication until he retired in 1990.
After retirement Bryce and Kay moved to Blind Bay BC and enjoyed many years of camping, fishing, gardening, travelling and annual family get togethers each summer in Blind Bay.  In 2008 they moved to Airdrie AB to be closer to family and enjoyed all that was offered including attending numerous grandkids hockey games.  In 2015 due to health reasons they relocated to Edmonton and enjoyed living at Rutherford Retirement Residence.  Edmonton offered even more grandchildren and other family members to visit which they absolutely loved.
Bryce was predeceased by his loving wife, Kay after 66 years of marriage. One grandson, Michael Powell of Auckland New Zealand and grandson-in-law Konrad Smith of Hamilton New Zealand. Bryce was also predeceased by his parents James and Euphemia Powell, sisters Cathy, Effie and Janet and brothers Ronald, Charlie and Harry.
Bryce leaves behind his son Steve (Robyn) of Auckland New Zealand, daughters Judy (Laurie) of Terrace BC, Shirley (Robert) of Hamilton New Zealand, Joan (Brian) of Edmonton Alberta and Carol (Adrian) of Airdrie, Alberta.  Grandchildren Lynda, Lesley, Bryce, Jeff, Nicole, Greg, Kevin, Tracy, Courtney, Jason and Darren. Also 9 Great Grandchildren and to his to delight 3 more on the way (for now).
Bryce's health had been declining but he never gave up. He so enjoyed life and all that it had to offer. He had a special way about him; no one was a stranger to him.  He honestly cared about people and wasn't afraid to show it.
He always bragged that he had the Best Family Ever but we say we had the Best Dad Ever … Love you Dad forever ….. "You Betcha!!"