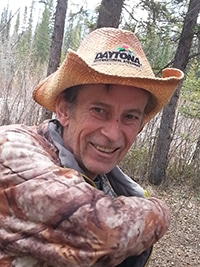 Carman Waddell Colbourne
1960-2018
It is with deep sorrow that we announce the passing of Carman on July 7, 2018.
He will be dearly missed by his mother, Irene, his wife, Megan, and all his loving family and friends.  He leaves behind his siblings, Ed, Ellis (Glenn), Dorothy (Winston), Larry (Liza), Ramsey (Jutta), Lorraine (Corey) and Sony (Liz); his nieces and nephews, Heather(Jamie), Crystal(Glenn), Janelle(Joel), Christa, Troy(Brenda), Sheldon(Trina), Stephen(Jackie), Micheal(Aislynne), Richard, Jessica, Nikita(Austin), Bradley(Jessica) and Briana; all of his wonderful grand nieces and nephews; and his friends Lee and Todd.
Carman will always have a special place in all of our hearts.