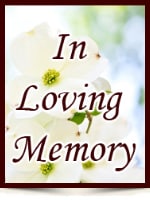 Charles Leflour
Charles Leflour November 15, 1951 - May 27, 2017 aged 65, passed away peacefully at The Royal Alexandra Hospital in Edmonton, Alberta.
He leaves to mourn his death his beloved wife Marilyn Leflour nee Belhumeur, two daughters Janice and Shannon, son in law Steven, granddaughter Emily, his brothers and sisters, Eugene and Lorraine, Kris and Mavis, Pat and Peter, Janet and Albert, and Gertrude. And many nieces and nephews.
Charles was predeceased by his parents Jerry and Mae Leflour and a baby sister Gertrude.
Charles was born in Winnipegosis, MB and grew up in Camperville MB. He enjoyed his work as a service technician in the construction industry. He loved to fish and hunt. He was always willing to help out those in need. He was friendly and outgoing. Always there for his family. He had a very special relationship with his granddaughter Emily. In 1990 he moved his family to Alberta. Where he remained until his passing.
Viewing
10:00AM Tuesday May 30, 2017
Trinity Funeral Home
10530-116 Street Edmonton, AB
Celebration of Life
10:00AM Saturday June 3, 2017
Our Lady of Seven Sorrows
Camperville, Manitoba
1-204-524-2268
In lieu of flowers donations can be made to The Cross Cancer Centre