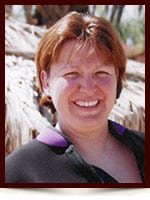 Christina May Schoenrath
Christina May Schoenrath
(January 5, 1961 – April 16, 2015)
Christina was born in Port Colborne, ON and raised in Crystal Beach, ON. As a young adult, she moved to Western Canada, following her calling to work in youth ministry throughout Saskatchewan and Alberta. She remained in Western Canada for over 25 years, considering it her home and continuing her calling of service to others through a vocation in the hospitality industry. Into this she integrated a deep faith in Christ, demonstrating kindness, compassion and integrity through her work and personal life. Chris lived fully and was an avid world traveler, experiencing and sharing in the marvels of this planet. She leaves to mourn her parents, Peter Schoenrath and Nina Schoenrath; sister Lenore Schoenrath Walker; brother Hank Schoenrath; nieces Danielle Schoenrath and Sydney Schoenrath; Aunt and Uncle Joan and Donald Barrett in addition to many friends throughout Canada.
A private family memorial service will be held in Ontario at a yet to be determined date. In lieu of flowers, memorial donations may be directed to Volunteer Services at the Cross Cancer Institute care of Alberta Cancer Foundation or to Camp Kinasao Lutheran Bible Camp, www.kinasao.ca or to the charity of one's choice.
A special thank you is extended to all the staff of Unit 43 at the Grey Nuns Hospital and at the Cross Cancer Institute, with special thanks to Dr. Basi and to Dr. Amigo for their compassionate care.
Contact Information:  [wpseo_address oneline="1" show_state="0" show_email="0"]