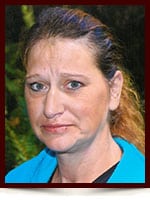 Christina (Tina) Marie Nestorovich (nee Frolick)
Christina (Tina) Marie Nestorovich (nee Frolick) passed away Thursday April 30, 2015 at the age of 44 in Edmonton, Alberta after a long battle with Crohns Disease.
She was born February 27, 1971 in Fort St.John, British Columbia to Richard Frolick and Sandra Lukes. The family moved to Grande Prairie, Alberta where she attended Swanavon and Holy Cross Catholic School before going on to attend Grande Prairie Regional College. She met her loving husband Raymond in 1996 while working at the Stanford Hotel. She made the move to Edmonton and the two were married September 22, 1999.
Though her disease caused her many problems, when able, she enjoyed camping and travelling with her family.
She was predeceased by her parents, Sandra and Rick.
Christina is survived by her husband Ray, her three children Sandra (Chris), Harry (Dawn) and Sheldon and her five grandchildren, Drayden, Lexis, Hannah, Wilhelm, and Rosealie. She also leaves behind her two sisters Tracey (Warren) and Tammy (Gary), two brother-in-laws Dale (Lori) and Brian, mother in law Elsie, step mother Ruth and numerous aunts, uncles, cousins, nieces and nephews.
Cremation has taken place and the family would invite family and friends to attend the final interment at a later date.
The family is grateful for the condolences and ask that in lieu of flowers, donations be made in Christina's memory to Crohns and Colitis Canada (crohnsandcolitis.ca).
Contact Information:  [wpseo_address oneline="1" show_state="0" show_email="0"]