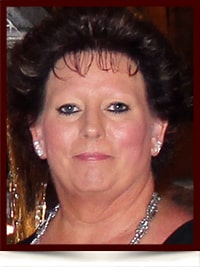 Cindy Marie Di Curzio
February 18,1965 - April 16, 2017
On Sunday, April 16, 2017 at 7:15 p.m., Cindy Marie Di Curzio passed away peacefully at the age of 52 years. Cindy lived a life of laughter and had a passion for family, friends, hosting parties, cooking, concerts, and boating. She loved to travel, and spend time at the family lake lot at North Buck Lake, AB. She loved hard, laughed hard, and fought hard.
Cindy is survived by her loving family: her husband of 28 years, Enio; Daughters Amanda (Chad) and Patricia (Jayson); Grandson Reed; Mother Sharon; Mother-in-law Eva; Sister Jody (Scott); Nephew Brody; Sister-in-Law Maritza; Nieces Jacqueline; Michelle (Jared); and Best Friend Carrie (Jamie, Jade, Zach). She will be sadly missed by numerous close friends and extended family including the Bethune's and the Siltala's.
Cindy was predeceased by her father Morley in 2010, father-in-law Giusseppe in 2012 and, her brother Kim in 2017.
In respect to Cindy's wishes, there will be no formal funeral service.
A time to gather and remember, as well as celebrate the life of Cindy will be held on Saturday, April 29, 2017, 2:00 p.m. at Kilkenny Hall (14910 72 St.)
We would like to thank Cindy's Physician Dr. Karen Ching, who went above and beyond every day. Also, to all the great staff at Sturgeon Hospital in St.Albert, AB.
If friends desire, memorial donations can be made to the Canadian Diabetes Association, 1010, 10117 Jasper Avenue, Edmonton, AB T5J 1W8 or to the Cross Cancer Institute 11560 University Avenue, Edmonton, AB T6G 1Z2.