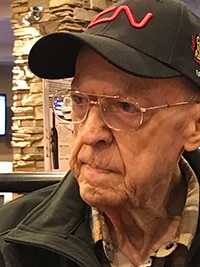 Clifford (Cliff) Floyd Slaght
On August 13 2018, Cliff Slaght passed away peacefully at the age of 80.
Cliff is survived by his 3 daughters: Debbie (Greg), Laurie (Larry) and Sandra (Leonard), as well as numerous grand children and great grandchildren.
He was pre-deceased by his wife Joy.
Also predeceased by brothers Beverly & Orville, and sister Phoebe
Cliff is also survived by son Gregory
Cliff was born in Galahad, Alberta in 1938. He had a long fulfilling career with CN in Edmonton from 1955 retiring in 1996
Cliff and his wife Joy would love to go on road trips just to see places. In his later years he would love to go and have a Beer and socialize with friends.
He will be dearly missed by all.
At Cliff's request no formal service will be held and cremation has taken place.