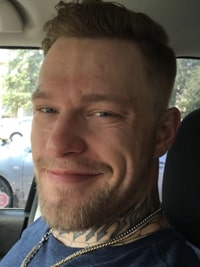 Cole Joseph Wilkinson
It is with broken hearts that we share the passing of Cole Wilkinson on January 28, 2020, at the age of 26.
Cole leaves behind the love of his life, his daughter Aurora, as well as his loving parents Joanne and Stan Nachtigahl, Floyd Wilkinson ( Brenda Savage), his sisters Samantha ( Samuel Valuck, Rosalie and Everett) and Delanie, his brother Eric, his grandmother Ruth Bristow , as well as many loving aunts, uncles and cousins.
We will all dearly miss him.
Cole grew up loving sports, hockey and international hand ball being his favorites. He was an honor student throughout his school years and became a Red Seal Concrete Finisher following his graduation.
Cole could charm his way into just about anyone's heart. Throughout his entire life he wore his heart on his sleeve and truly was a caring and empathetic man.
The last few years were hard for Cole, as he struggled through his personal battles and finally, as he lost hope, lost his battle.
Cole was predeceased by his grandparents Gord and Kay Wilkinson , as well as Grandpa Bob, who is now holding him close and we are sure, giving him a tour.
In lieu of flowers, please be compassionate to the souls that suffer in silence, that wage a war that you will never know , that look a little different , but have the deepest and most loving hearts.
Don't judge, be kind, and look a little deeper.
Your words of encouragement and understanding may make the difference.
There will be a gathering in the spring for family and friends to spread his ashes in the Rocky Mountains that he loved.