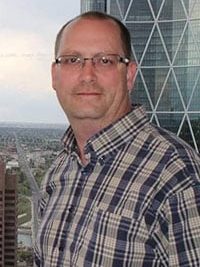 Dale Robert Cameron
March 13 1970 – February 27 2021
Dale Robert Cameron peacefully passed away and joined his mom, Fran, and dad, Jim, on Feb-ruary 27th 2021 at the age of 50. He passed away in the comfort of his family and his dog at the Mazankowski Heart Institute in Edmonton following a long journey with Muscular Dystrophy.
He is survived by his loving wife, Tanya, of 23 years, his daughters Brooke and Chelsea, his brothers; Jim (Susan) of Courtenay BC, Don (Teresa) of Comox BC, and Tim (Nicky) of Gold Coast, Queensland, Australia. Also missing Dale are Courtney (David), Colin, Shaun (Dawn) and their 3 children, Cory (Taylor) and their 4 children, Kristy (Riley), Cole, Aleta, Brittany and Cas-sandra.
Dale was born in Cranbrook, BC to Fran (Heide) Cameron and James Cameron. Dale spent most of his young life living in Port Hardy, British Columbia where he met his Wife, Tanya, whom he married in 1997. He later moved his wife and 2 children to Whitehorse, Yukon (1998) for a job that would later lead to his success in the home building industry. He then settled his family in Stony Plain, Alberta in 2001.
After working for a local retail building supplier Dale worked his way up to a Senior Estimator Position for a reputable home builder where he successfully built what he called the "dream team". He took great pride in his work and who he worked with, while encouraging those around him to be the best version of themselves.
Dale was a hard worker, thoughtful, and smart all while being a respectable man who always put others before himself. He enjoyed music, problem-solving, genealogy (family history) and spending time with his friends and family.
Remember Dale for his sarcasm and humor and always wanting to make others laugh however possible.
Thank you to all the staff at the Mazankowski Heart Institute in Edmonton, Alberta for provid-ing the best care possible to Dale Cameron.
"Bye for now, hope to see you soon… but not too soon" – Dale
"We will always love you and remember you" – Tanya, Brooke and Chelsea Cameron