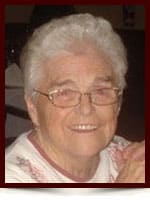 Daphne Courtney (Stubbington)
Daphne Courtney (Stubbington)
1928 - 2015
On July 3, 2015, Daphne passed away peacefully at the age of 87.
She will be lovingly remembered by her daughter Valerie Hawkes, grandchildren Patrick Hawkes, Joni (Mike) Mascioli and Christina Mickel, great-grandchildren Shaylene (Andrew), Michael, Dylan, Vincent, Griffin, great-great-granddaughter Riley, numerous family members and friends.
Daphne was predeceased by her sisters Dorothy, Yvonne and Margery, and brothers Victor, Wilfred, Hubert and Brian.
The family sends special thanks to the staff at St. Michael's Long Term Care for their care and compassion during her stay there.
Contact Information:
[wpseo_address oneline="1" show_state="0" show_country="0" show_phone="0" show_phone_2="0" show_fax="0" show_email="0"]