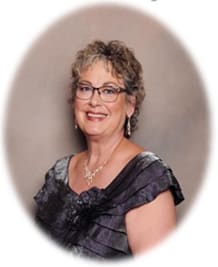 Darlene Edith McCormack
Darlene Edith McCormack, beloved wife, mother, grandmother, sister and friend passed away October 17, 2019, following a valiant battle with ovarian cancer.
She will be remembered by her husband Richard, sister Trudy (Elvis), daughters Alicia (Dustin) and Melissa (James), sons Andrew (Bethany) and Shaun (Ashley) and grandson Kiptyn.
Darlene was born in Edmonton to first generation immigrant parents Alfred and Ida Exler. While starting a family of her own, she became a co-founder of McCormack Optometric Center with her husband.
She was a dear friend to many, including those who became like family to her at both West Edmonton Baptist and McKernan Baptist church. Darlene had the gift of hospitality, with a continual desire to always put others first and took great interest in the journey of those around her.
Darlene loved to travel and her favourite trip was the one she took to Isreal with her husband, following the life and footsteps of Jesus. Hawaii, another favourite of hers, will always be a special place of remembrance.
God was her rock and fortress, walking beside her, comforting her, and giving her strength. Darlene was confident that she would meet Jesus in heaven after her time here on Earth was complete, and her family celebrates this, even in their time of sadness.
A service to celebrate her life will be held at 1pm at McKernan Baptist Church - 11103 76 Ave NW, Edmonton.
If you would like to join the service online from home – please access through http://livestream.com/accounts/240232/events/8868524. This link will only be accessible Saturday morning prior to the service.
Chain of Love became a favourite organization of Darlene's and, in lieu of flowers, any donations made to Chain of Love would be greatly appreciated.