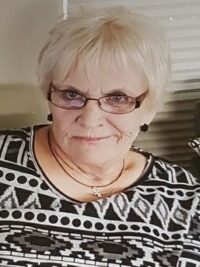 Darlene Helen Huchulak
April 17, 1941
-
May 4, 2021
It is with deep sadness we announce the passing of our beloved mother,  Darlene Helen Huchulak  just two weeks following her 80th birthday.
She is survived by her three loving sons : Zane(Glenda), Zackary and Avery (Shannon). Her grand children McKenzie(Amy) and new great grand daughter, Phoenix, Spencer(Sarah), Tanner, Rayelle and Jarden, her sister Candace, several nieces and nephews and their families. As well as numerous extended friends and family members
Moms motto:
Live well, Work hard, Laugh often, love and dance much.
She's the whisper of the leaves as you walk down the street.
She's the smell of certain foods you
remember, flowers you pick, the fragrance of life itself.
She's the cool hand on your brow when your not feeling well.
She's your breath in the air on a cold winters' day.
She is the sound of the rain that lulls you to sleep, the colours of a rainbow.
She is Christmas morning.
Your mother lives inside your laughter.
She's the place you come from, your first home.
She's the map you follow with every step you take.
She's you first love, your first friend, even your first enemy.
But nothing on earth can separate you.
Not time.
Not space.
Not even death.
A Celebration of Darlene's life will take place at a later date.
The family would like to thank her care givers in her final days at the Royal Alexander Hospital.
The family would also like to express sincere gratitude for the condolences, words and gestures of support, the beautiful flowers and cards. These have meant a lot.