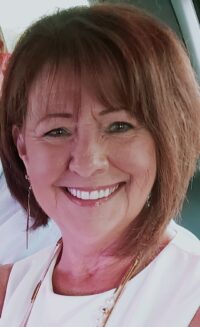 Deborah Ellen Green
November 8, 1952
-
May 20, 2023
On May 20, 2023, after a brief and courageous battle with Cancer, Deborah "Debbie" Green passed away peacefully in her home, with her husband and son by her side. She was 70 years old.
Debbie (nee: McHolm), beloved wife of Raymond "Randy" Green, loving mother of Derek Green and his wife Tara, and devoted grandmother to their four children: Emilee, Alexa, Kennadie, and Brayden. Cherished daughter of the late Donald and Betty McHolm. Dear sister of Robert McHolm and his wife Julie, the late Michael McHolm and his wife Bonnie, and Jane McHolm. Adored aunt to her special nieces and nephews.
Debbie lived with a passion for adventure that led her around the world alongside her husband and best friend of fifty-one years, Randy. Having the opportunity to call 3 different continents home, was something that Debbie cherished. From Newtonville to Port Hope, England to Edmonton, and Chile to Mississippi, Debbie was truly grateful for the incredible friendships and memories she created along the way.
No matter where life took her, Debbie always approached the world with a big smile and a bigger heart. Her friends will tell you that Debbie lived life to the fullest and always brightened every room she entered. She loved to entertain and was at home in her kitchen with a glass of red wine, music, and an assortment of ingredients, eager to experiment with new recipes and create a beautiful meal to share with family and friends.
Her family will tell you she loved them with her entire heart and would never turn down a hug. The most sacred thing to Debbie was family, followed closely by friendships. She was never afraid to start up a conversation with a stranger, and often times, a simple "hello" to a couple sat at a nearby table, or an introduction to a new co-worker, led to endearing friendships.
Although Debbie is no longer with us, her memory will live forever in the hearts of those she touched.
A private Celebration of Life will be held for Debbie in Edmonton on June 4 th , 2023. A subsequent Celebration of Life will take place in Ontario for friends and family in the upcoming months, at a date and location to be determined.
In Lieu of flowers, please consider making a small donation to the Canadian Cancer Society at cancer.ca.