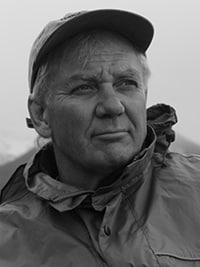 Denis Charlebois
Denis was born on April 4th, 1954 in Windsor, Ontario and grew up in Oakville, Ontario. In the 70's, he took off West in a beat-up Volkswagen and fell in love with the mountains. As with many locals, Denis came to the Rockies for a season and never left. Denis spent some time in Banff and Lake Louise before settling in Jasper. His beautiful house in Cabin Creek was lovingly hand built with no detail overlooked, creating a warm, inviting home to raise his three daughters in. He loved hosting his friends and family for meals in his home, with wine and stories flowing. He often said "good food takes time". Denis was an avid gardener and loved providing fresh vegetables to family, friends, and neighbours - especially his carrots were renowned in the neighbourhood. As a long time resident, Denis had many careers; CN Rail, National Car Rental and working for many resorts and privately as a carpenter.
Many will remember Denis for his exceptional sense of humour, his passion for the Rockies and his love for his three daughters. Denis expressed his love for nature and the mountains to all in his life; friends, family, and visitors. He could talk about the trails and outdoor activities for hours. He was happiest exploring the backcountry, trail running around Lac Beauvert, fishing on Maligne Lake, skiing at Marmot Basin with his daughters and enjoying a salmon dinner with his homemade red wine.
Denis passed away suddenly, of undiagnosed heart disease on January 23, 2020 at the age of 65. Denis will live on through his girls; Carly, Kristen (Marcus), and Sabrina. He will also be dearly missed by his mother, Dorothy Charlebois, and many beloved aunts, uncles, and cousins. Long-term residents of Jasper, who have become family over the years, will also miss him greatly.
Memorial Service
12:00PM Saturday February 8th, 2020
Our Lady of Lourdes Catholic Church
300 Bonhomme Street Jasper, AB
Celebration of Life
2:00PM Saturday February 8th, 2020
Royal Canadian Legion
400 Geikie Street Jasper, AB
Please wear colour as Denis lived a vibrant life and come prepared with your favourite stories of him.
Memorial Donations
Ronald McDonald House Charities Canada in Denis' name.