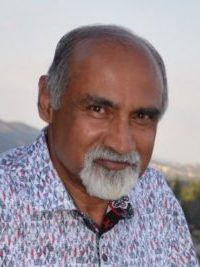 Denzal da Vitoria Lobo
da VITORIA LOBO, Denzal of Edmonton, Alberta passed away suddenly on February 14/2021.
Born in Bombay, India on June 21, 1952, he was the son of late Alberto M.A. da Vitoria Lobo and late Bernadette Mendanha da Vitoria Lobo. Denzal spent his school life at Loyola High School in beautiful Goa and at the age of 15 went to University in Bombay, India, where he did his Bachelors in Architecture degree at the Sir J.J. College of Architecture. He migrated to Halifax, Canada in 1973 to continue his studies in architecture at Technical University of Nova Scotia (TUNS), Dalhousie University. In 1977 he moved to Edmonton, the west coast of Canada and in 1981 established Weed Lobo Architects Ltd.
Denzal is survived by his loving wife Patricia (nee Guggenmos) of Edmonton, children Leisl in Alberta and Terrill in Las Vegas, his brothers Luis (Janet), Ehrlich (late Elaine), Niels (Jasmine) and sisters Lygia (Joseph), Avila (Louis), several grandchildren, nieces, nephews, grand nieces and grand nephews.
Denzal lived his life to the fullest, always believed his cup runneth over and 'Attitude is Everything'. He loved music, ballroom dancing, good food (especially the desserts), travelling around the world and Canada capturing the beauty with fabulous photography. He was an active member of his Church group and took a leadership role in the Knights of Columbus, where he organized several fun/fund raisers for this organization.
Denzal, with his charismatic personality loved socializing and enjoyed planning events for the Edmonton Goan Association where he was President for 2 terms. During this time he organized the taking of 'the Oath for New Canadian Citizens' with dignitaries attending the ceremony hosted by the Edmonton Goan Club. He was also instrumental in having a float representing the Edmonton Goan Club for the Klondike Day parade.
He was a perfectionist but always had a smile especially when organizing events for the Les Amies Dance Club (celebrating 100 years in 2022), as he loved ballroom dancing. Cruising was one of his more recent passions where he could dance the evening away with Patricia and take breathtaking photos of ports they visited.
Rest In Eternal Peace, Denzal.
Due to COVID restrictions, visitation is not allowed. The service will be held virtually from the Trinity Funeral Home on Tuesday, February 23, 2021 at 10am MST (Edmonton) and will be broadcast on the link below for all to view.
youtu.be/A7jVE3a_o2M
Other corresponding time zones:
10.30 pm IST (Mumbai, Goa)
6.00 pm CET (Switzerland)
5.00 pm GMT (UK)
1.30 pm Newfoundland
1.00 pm AST (Halifax)
12.00 pm EST (Ontario,Atlanta,Florida
11.00 am CST (Saskatchewan, Texas)
9.00 am PST (B.C., California, Nevada