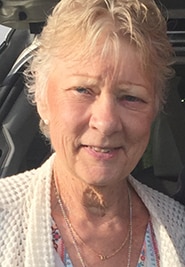 Dianna Lynn Criss
Our family carries heavily broken hearts and regret to tell all the friends and family of, Dianna Lynn Criss, of her passing.  She succumbed to the dreaded "C" word after an over 3 year battle. She slipped into a peaceful rest on Monday September 9, 2019 with her loved ones by her side.
She touched the hearts of anyone who knew her, and even strangers in line at the grocery store!  She always took care of everyone else, never worried about herself.
She will be lovingly remembered by her four children, Dawn (Chris) Todd (Candace), Kim and Keri. And her 10 grand children, Dylan, Breanne, Taylor, Keira, Mariah, Dayton, Brandon, Brody, Bryce, Bradley, whom she loved more than anything else in the world.  Dianna was predeceased by her parents Marvin Criss and Jean Criss (Grant).
She wanted to extend an invite to what she wants to call her "party"  (celebration of life) on Sunday September 15, 2019 2:00, at Sherbrooke Community Hall, 13008-122 Avenue, Edmonton.
She expressed not to wear traditional black attire but instead to wear bright colours.  Initially she said "crying is allowed for a short time then lots of laughter to follow".
There will be a viewing on Friday, September 13 at 11:00 at Trinity Funeral Home 10530-116Street, Edmonton.