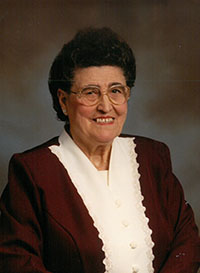 Donata (Donna) Margiotta
On Monday August 24, 2020 Donata (Donna) Margiotta, loving wife and mother to three sons, passed away at the age of 98.
Donna was born on February 8, 1922 in Potenza, Italy to Giuseppe and Maria Colletta. She immigrated to Canada in 1953 with her sons Tony and Tito to meet her husband Giuseppe who had arrived earlier to find work and set up a home.
Donna's primary commitment was to ensure her husband and family's needs were always met. She devoted herself completely and unconditionally to family and friends. She was a remarkable person with conviction and determination and would not allow anything to obstruct her from completing what she felt were her goals and tasks. She worked tirelessly out of the home at Swifts and in the home. She never wavered from what she felt was her calling. She put others needs before her own and was always prepared to lend a hand to who ever needed it.
Donna was predeceased in death by her husband Giuseppe and her eldest son Tony. She is survived by her son Tito (Sandi), daughter in-law Dianne (Tony), son Peter (Lisa), grandchildren: Donna (George), Rodney (Maria), Guyle (Sandra), Tina (Damian), Leah (Dan), Ryan (Landyn) and several great grandchildren.


A private Funeral Service and interment will be held, a memorial service celebrating and remembering her life will be held at a later date. Invitations will be forwarded advising of a time and place.

In Lieu of floral tributes, If friends so desire, donations can be made directly to the Heart and Stroke Foundation.