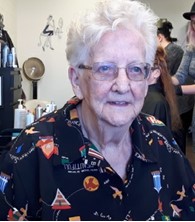 Dorene Edith Sellar
March 21, 1930
-
March 9, 2023
Dorene Edith Sellar, 92, of Edmonton, AB passed away on March 9, 2023 after a short illness.
Dorene was born on March 21, 1930 to Ward and Carrie Yeo in Edmonton and grew up in Gibbons, AB. After graduation, Dorene worked with her aunts in the millinery business in Edmonton until she met the love of her life, Robert Sellar.
Dorene and Robert lived in Edmonton, St. Albert and Grande Prairie, with Dorene working in fashion and dressmaking before retiring. Dorene moved back to Edmonton after the death of her husband Robert.
Dorene is survived by her sons Boyd (April, grandchildren Hilary and Kirby), and Earl as well as many nieces and nephews.
Dorene was predeceased by her parents, her brothers Earl Yeo, (Mamie), Marvin Yeo (Isabel), Ed Yeo (Anne), Gerald (Uncle Sonny) Yeo (Anita), and Mary Panneton (Louie).
In lieu of flowers, please consider a donation to Peace Area Disabled Riding Society (PARDS.ca) or a charity of your choice.