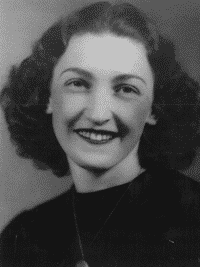 Dorothy May Moss
It is with heavy hearts we announce the passing of Dorothy May Moss on Monday, October 28, 2019 at the age of 102.
She is survived by her son Blake, daughters Leah and Laurel (Paolo), grandchildren Natasha, Neysa, Nola, and Andrea, great-grandchildren Tyler, Conal, Liam, Myia, Nathan, and Lucas, great-great-granddaughter Aurora, and many nieces and nephews.
Dorothy was predeceased by her husband Frank, her mother and father, two brothers, one sister, one niece and one nephew.
There will be a Celebration of Life at 2:00 on Saturday, November 2, 2019 at Trinity Funeral Home (10530 116 Street, Edmonton, AB).
In lieu of flowers, please make donations to the Alzheimer's Society or a charity of your choice.